Body Contouring for Rancho Mirage and Palm Springs-Area Patients
Body contouring helps to streamline the body to produce a more natural, slender appearance. People who lose weight are sometimes left with unflattering excess skin, Dr. Sofonio can help you look YOUR BEST!
Sometimes diet and exercise alone aren't enough to rid your body of stubborn fat cells. If you fall under this category, Dr. Sofonio offers various non-invasive body contouring procedures in his Rancho Mirage office, including CoolSculpting®, Vanguish™, Ultherapy®, BodyTite®, and more to help you dissolve fat and tighten your skin in targeted areas of your face and body.
Many patients see noticeable, lasting results with minimal discomfort or downtime. Contact our office today to schedule a consultation if you'd like to learn more about any of these outpatient procedures.
* Please Note: Individual results may vary.
BTL Vanquish ME™
Using radiofrequency technology, BTL Vanquish ME™ targets thermal energy directly into your fat layers to destroy unwanted fat cells without harming your surrounding skin tissues. Some patients may see results in just one treatment, though this non-invasive procedure typically takes 4-6 treatment sessions spaced about a week apart to achieve desired results. Many patients drop a dress or pant size after treatment for renewed self-confidence and smoother body contours.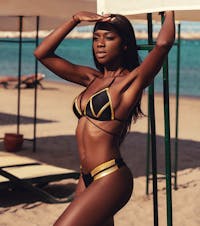 Coolsculpting®
CoolSculpting® is an innovative body contouring procedure involving freezing stubborn fat cells underneath your skin using precisely controlled cooling technology. Once these fat cells have been frozen, they'll begin to die off in the weeks that follow as your body naturally eliminates dead cells. CoolSculpting® requires no anesthesia, surgery, or downtime and has been FDA-cleared for your peace of mind. It has been proven to be effective to treat areas of fat in your abdomen, flanks, thighs, and arms.
BodyTite®
Using radiofrequency technology, BodyTite® is a procedure that liquefies, dissolves, and removes targeted fat while tightening your skin and coagulating your blood vessels. Avoid surgery and scarring, as well as the irregularities presented by liposuction, thanks to this state-of-the-art body contouring procedure. By reducing resistant fat cells and sagging skin, many patients have achieved a more youthful appearance as a result of this procedure recommended for love handles, bat wings, abdominal fat, sagging breasts, and more.
Cellutone
Using acoustic wave therapy, Cellutone is a non-invasive cellulite treatment that helps patients reduce the appearance of cellulite for smoother, beautiful skin. Areas commonly treated using this procedure include the buttocks, abdomen, upper arms, thighs, love handles, and the bra line area. For best results, Cellutone may be used in combination with other skin-tightening or cellulite-targeting procedures.
Ultherapy®
Ultherapy is the Gold Standard for non-invasive facial, neck and chest skin tightening. Using ultrasound energy to stimulate your body's natural production of collagen, Ultherapy® is an FDA-cleared non-invasive procedure used to lift, tone, and tighten sagging skin around your neck, chin, and eyebrows. Many patients notice a reduced appearance of facial lines and wrinkles after treatment. Most patients experience measurable results over time (about 2-3 months) as new collagen helps tighten and smooth their skin. This type of treatment is usually recommended for patients who want to achieve some of the results of a facelift but aren't ready to commit to an invasive surgery.